Campus Scuola per la Cultura Popolare 2014
In occasione del 22° anniversario della strage di Via d'Amelio, avvenuta il 19 luglio del 1992, Corleone vivrà un'esperienza di università in piazza cercando anche di raccontare il grosso lavoro svolto sul territorio dal progetto INTUS, nel riflettere ed agire riguardo al recupero delle parole, in particolar modo occupandosi di "giustizia" e "onore", entrambi vocaboli molto difficili da declinare sul loro territorio.
Al centro di tutto c'è il Maxi Processo condotto dai Giudici Giovanni Falcone e Paolo Borsellino: numerosissimi faldoni, copia degli avvocati difensori e i documenti originali (la sola sentenza è un documento di 7000 pagine), conservati presso il C.I.D.M.A. (Centro Internazionale di Documentazione sulle Mafie e del Movimento Antimafia) di Corleone, luogo presso il quale il Campus Scuola avrà in parte luogo e uno dei principali simboli di legalità e di lotta alla mafia presenti sul territorio nazionale
Per quattro giorni si susseguiranno incontri di approfondimento sul tema del rapporto tradizione popolare/mafia, riguardo ai beni confiscati e sulla community care, si parlerà di archiviazione digitale e di politiche di integ(r)azione, non mancheranno poi le feste di piazza e laboratori sulla narrazione. Vivremo il territorio, con il territorio, dormendo a casa dei cittadini corleonesi.
ITALIAN NETWORK OF FOLK CULTURE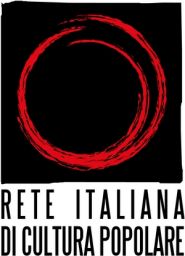 ® The Italian Network of Folk Culture aims to innovate, study, protect and support folk and popular culture and intangible goods.
On 25th January 2007 was signed an Agreement for the performance activities among the Italian Minister for Arts and Culture, the Regions, the Independent Provinces, the Provinces and the Municipalities. The Agreement's goals are: "(...) The development of identity and territorial vocations, through economic and organizational supports characterized by a close contact with the territory; the diversification of the cultural offer, the development of projects in network, in extra municipal, extra provincial and inter regional territorial contexts; the promotion of projects for increasing the audience and the spread of the show among young people; the use of tools allowing a rationalization of the available state and territorial resources (...)".
Since more than 10 years, there is an active network of municipalities, provinces, regions and associations pursuing the above mentioned objectives, which work specifically to recover and promote culture and folk traditions.
The network includes a large national territory, which allows a great circulation of ideas and projects.
The network acts through a legal body formed in 2004, called Committee Festival of Provinces, consisting of sixteen provinces distributed on the national territory, the Slow Good Association and the Theater of Forms Association.
---
Since 2007 the Committee Festival of Provinces has been recognized as " Italian Network of Folk Culture" by the Italian Minister for Arts and Culture.
The Committee Festival of Provinces (as know as Italian Network of Folk Culture) had a lot of different experiences with folk culture. Besides the studies and the researches carried out by a Scientific Committee, created within the juridical body, composed of anthropologists and scholars of Italian folk tradition, the Committee has developed some projects aimed at the discovery, protection, promotion and contextualization of traditions and various expressions of folk culture, existing in the Italian provinces: from spectacular forms (music, theater, orality) to traditional forms (feasts, local customs, rituals); from territorial material culture to language minorities.
These " forms" of folk culture must be protected and promoted as genuine aids of culture and folk customs. That is why some specific projects have been developed, through a wide network systems composed of bodies, territorial and cultural resources:
Festival of Provinces, Itinerant Festival of Folk Culture

International Festival of Folk Oral Tradition

International Award of Witnesses of Folk Culture

Itinerant Chairs of Folk Culture

13th December – National Day of Italian Network of Folk Culture

Arianna - Euro-mediterranean Network of Culture and Heritage
President: Ugo Perone
Vice-president: Alessandra Giudici
Director: Antonio Damasco
President of Scientific Committee: Paolo Apolito