13TH DECEMBER
NATIONAL DAY OF ITALIAN NETWORK

OF POPULAR CULTURE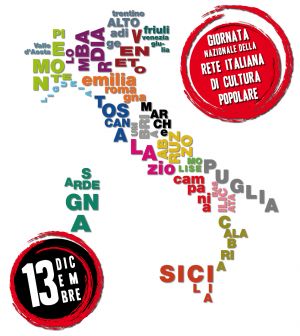 The initiative started as the Ministry for Arts and Culture realized the activity of the Committee Festival of Provinces, which has promoted our extraordinary and intangible traditional heritage for several years, by recognizing us as Italian Network of Popular Culture.
We caught the cry of alarm that a few years before came from a Ministry's publication about a particular research. This pointed two items: first of all, the widespread presence of many public and private museum groups taking into consideration just material culture and local history of  territories; then, the absence of a system able to protect and preserve live expressions of popular religiousness and rituality, festivals, traditions, various manifestations of territorial knowledge related only to the oral transmission of wisdom.
These goods, defined by the great ethnographer Alberto Maria Cirese as " volatile" for their fragility, needed attention, rediscovery, recognition, not only for their cultural or popular spectacularity features, but above all for their anthropological and identity function and their role in policies of social cohesion.
Therefore, it was necessary to arrange for them a network similar to that of  demo ethnoanthropological museums, able to give them the right importance and let know their extraordinary preciousness, through efficacious forms of coordination.
Even if in these times the " global village" risks to standardize and simplify the culture until banalize it and its ways of transmission from generation to generation, we accepted this challenge. So, we tried to let them emerge again, in order to let them be re-known by their own carriers and guardians. Then, we would let the community know them as cultural and identity shared heritage, which is a strategic resource for the entire country.
The whole area of tradition and popular culture has been the victim- therefore, for a long time penalized- for an altered diffuse perception that often ridiculed these expressions, by declining them only to the deleterious folk aspects, relegated to a certain interpretation of the past. The entire system of intangible cultural heritage has suffered this unfair cultural delegitimization between the end of '800 and the early decades of the last century, when it was reduced to curtain raiser subject. And it is still difficult to get out of particular clichés and interpretative stereotypes, which have been consolidated for long time.
In this difficult path we met sensitivity and consent from many Italian provinces, which are interpreters of the multitude of subjects seriously engaged on this issues. They are strongly convinced about the importance of appropriate policies of protection and valorization, so they brought in our initiative the popular and vibrant heritage of local cultures. A very important moment in this path,  was when our Country put the signature under the text of the UNESCO Convention about the Intangible Heritage.
It was like a viaticum, a sort of recognition and certification of the goodness of our initiative, which let our spirit of devotion and gratitude- towards all the witnesses and actors of our tradition of popular culture- become stronger and stronger. Even these experiences gave us the idea to organize every year in Italy a day dedicated to the wealth of the intangible heritage, related to the Popular Culture, which is still little known.
Saint Lucia, symbol of vision and light, is celebrated on 13th December by popular religion, and that is why  we chose this day. We would like all citizens' eyes open for various manifestations of Popular Culture, on which we would like concentrate the light of the public interest, at least once a year.
So, it was established a campaign for the protection of Popular Culture. The work of  sensitization is led by Francesco Guccini, Toni Esposito, Massimo Bubola, Eugenio Finardi, Giovanna Marini and Enzo Jannacci, who writes:"... Popular culture is the result of a way to talk about things and feelings; it comes from the tradition renewing in the experience of sharing.
Without this memory, which is based on music, story and fantasy, the daily reality uses neologism (" slangs") of an exasperated technology, which fills the emptiness of contents with confused sounds, making us lose the desire to discover and to hand down the meanings of words.
It is a call for presenting again the school's sense of being, because school should transmit by overcoming the injustices caused by the economic and social differences and reorganize the different histories and cultural differences in levels through the exchange of knowledge..."
"In 2003 appeared the UNESCO Convention about the protection of " Intangible heritage of humanity"...in the list of intangible works for Italy there are just 2 items: the Sicilian Pupi and Sardinian Tenores Choir. Actually, not enough for a country with thousands of bell towers, crossroad of peoples, cultural melting pot for thousands of years...That is why it appeared a little entirely Italian movement, from the Province of Turin, and then other 29 provinces joined it. Later, even ANCI and Slow Food have joined it.
At the end of the " National Day" of Saint Lucia, an ancient festival, maybe we can say it has started the second Italian folk revival..."
Michele Smargiassi, " La Repubblica", Saturday 13th December 2008, pages 39-41
"...We realize slowly that memory and popular culture, rather than obstacles, are actually engine of another development, tangible and lasting: the way to follow for renewing without having to lose something...The National Day of Italian Network of Popular Culture ratifies the rise of this incredible movement, that no survey can yet estimate...
The time is ripe to not make the mistake of consider popular culture as a nostalgic stylish exercise...just to quote the anthropologist Piercarlo Grimaldi, who gave a strong political meaning to this discovery, we need to continue to create "  ...granaries of humanity, which are the source for the man in the present, when the winter of culture becomes more rigid and inhuman...". It is time to join the choir."
Carlo Petrini, " La Repubblica", Saturday 13th December 2008, pages 39-41